Serving the Plastic Film Industry Since 1986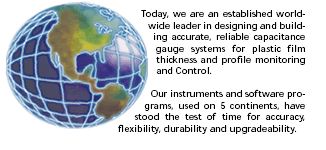 MeasureTech is recognized as the industry's leader in thickness and profile measurement using capacitance technology.  Its technical staff has been designing, supporting, and providing gauges and SPC software to the plastics industry for over 17 years.
By supplying the most flexible systems to plastic processors, MeasureTech can provide a system to meet your needs today and into the future.  All systems are designed with your future in mind.  Features can be added and systems expanded to meet your changing requirements.
At MeasureTech we understand the complexity of film manufacturing, and have designed our equipment to bring lab gauge accuracy to the production floor.  We´ll give you a competitive advantage with the equipment you require to precisely measure film thickness and profile in a variety of production processes to ensure consistently dependable film quality.
Quality and Service You Can Depend On. Customers on nearly every continent depend on MeasureTech to help them increase yield in film manufacturing, raise film quality, and minimize down time.  MeasureTech gauges offer premium performance and are backed by the best warranty and support staff in the industry.
Technology Capacitance technology for film measurement continues to prevail as the most precise and cost-effective method in the industry.  This reliable, maintenance-free technology provides repeatable measurement of microscopic thickness variations in a completely passive system, free from nuclear emissions.  The people at MeasureTech have been there from the start, and continue to lead the industry through innovative designs and specialized packages.  MeasureTech´s latest technological advances will serve to benefit you through waste reduction, higher yield, reduced start up time, and improvement of your product quality.
Let Us Gauge Your Success Put the benefits and experience of MeasureTech to work for you.  The instruments MeasureTech designs and manufactures provide a standard of excellence against which others are measured for reliability, performance, and cost-effectiveness.
 For instruments vital to film production, call MeasureTech and increase the confidence of your Product Quality.